Published 29 May on DailyKos,
part of a
Feeding America
series by Patriot Daily News Clearinghouse.
Millions of Americans need more nutritious and affordable food that can address problems of hunger, malnutrition, obesity and poverty. Yet,
critics whine
that our food stamp program for 40 million people that now costs $73 billion a year is "part of a long-term expansion in welfare and related programs." Chris Edwards from libertarian Cato institute says that "some government figures show that only 10 million people have a serious problem with hunger," yet the "number of people on food stamps is four times higher than the number of people with a serious hunger problem."
Guess it depends on how you define "serious problem with hunger." Here are some dismal stats
[
Canada's statistics
are similar -- Ed.]
:
* Percentage of high-poverty schools has increased from 12% to 17% according to a Department of Education report released this week: The percentage of schools where "students are eligible for free or reduced price lunch" has increased "from 12 to 17 percent between the 1999-2000 and 2007-2008 school years, even before the current recession was fully felt."
* 16.6 million American children live in homes with some level of hunger.
* 25% of American children did not have enough food in 2007 but lived in households that earned too much money to qualify for any government food assistance.
* 50% of all children and 90% of African-American children will need to use food stamps before their 18th birthday.
* Child hunger costs the U.S. economy $28 billion each year due to "health care, lost productivity, education system impacts, and charity system expenses."
* Pluto pointed out this week that 50 million Americans are malnourished:
Apparently, of the 300,000,000+ people in the United States, approximately 100,000,000 of them are poor -- and half of them are malnourished:
100 million people, fully one-third of the entire U.S. population, are at or below "200% of the federal poverty line of $21,834 for a family of four", which is a needs-measure made lame by the fact that no family of four can actually comfortably live on such a low annual income.
Not everyone qualifies for food stamps and food banks, as noted today by noweasels, continually face the pressures of finding enough food to feed the increasing number of Americans who need food. Additional supplementary means are needed to provide everyone with their human right to nutritious food each day.
Michelle Obama asked Will Allen of Growing Power to join her when she launched an initiative to end childhood obesity. That's because Allen started a food justice program to provide "fresh, nutritious, affordable ford to inner city residents" in those "food deserts" where big grocery chains have abandoned neighborhoods.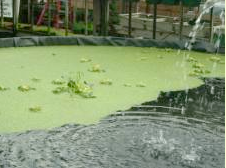 Growing Power uses aquaculture, or the "symbiotic cultivation of plants and aquatic animals in a re-circulating system." A fishery of Tilapia and Yellow Perch is used to fertilize a variety of crops in greenhouses at an urban farm in Milwaukee. In 2008, the Great Lakes Water Institute delivered 10,000 young (three-month old) yellow perch to Growing Power's urban farm in Milwaukee to test this indoor fish-farming system.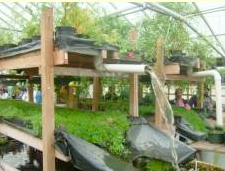 Using gravity for transport, water from the fish tank is drained into a gravel bed for filtration:
Here, beneficial bacteria break down the toxic ammonia in fish waste to Nitrite and then to Nitrogen, a key nutrient for plant development. On the gravel bed, we also use watercress as a secondary means of water filtration.
The filtered water is then pumped from the gravel bed to the crop growing beds. Then the water flows from the growing crop beds back to the fish tank. This is how it works:
Allen's Market Basket program provides weekly deliveries of produce to neighborhoods in Milwaukee, Madison and Chicago. Prices range from $9 to $28 for around 20-25 pounds of 12-15 varieties of produce that is designed to feed 2-4 people throughout the week.
There are so many additional benefits. Communities are brought together, old warehouses in cities are transformed into indoor fisheries and greenhouses, jobs are created and the perch population is restored. In the mid-1990s, the perch population in Lake Michigan collapsed partially due to an invasion of zebra mussels that hitchhiked on the hulls of ships.
Another program called Urban Farming creates community-based farms nationwide and so far has "planted the equivalent of 1,000 garden plots -- 20 feet by 20 feet" that bring entire communities together from all generations as well as benefitting the environment with more green. A video at the link shows the community spirit of song and dance at the groundbreaking ceremonies.
Urban Farming allows poor communities and local food banks to obtain nutritious food:
This organization has turned almost 20 derelict properties in Detroit into urban farms. Through community support and partnerships with local business, these properties are now community gardens where needy residents can grow and pick their own fresh fruits and vegetables. Any leftover food from the gardens is donated to local food banks.
In 2005, the Detroit Urban Farming program provided one ton of food to food banks and community members. This is not the first time that urban farms sustained our nation:
Urban Farming wants to eradicate hunger in this generation's lifetime, Sevelle said. There is precedent; 20 million Americans grew victory gardens during World War II and grew 40 percent of the nation's produce supply.
A recent survey showed that "South Bronx suffers the highest hunger rate of any congressional district in the country. More than 36% of residents lack enough money for food." Now they have a new community farm on a 400-square-foot plot to feed themselves in a healthy, sustainable manner.
Gardening, on the other hand, means fresh air and exercise, and teaches kids about science, math, cooperation and patience, as well as yielding healthy foods, he said.

The broccoli, collard greens and tomatoes grown at the farm will be harvested for residents of the community, with any excess donated to food kitchens, said Ritz.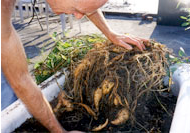 For neighborhoods that don't yet have access to urban farming programs, there is container gardening (resources and guide sheets provided at link) that uses a variety of sources, including old bathtubs to grow sweet potatoes.
Michelle Obama has been working hard to show that we have a food crisis in this nation of hunger, malnutrition and obesity. Local groups are also working hard to build the infrastructure to grow and distribute food. But America needs to realize that our food crisis is not limited to 40 million people receiving food stamps.